Five years ago, when Indian Prime Minister Narendra Modi stepped on the US soil between the slogans of 'Bharat Mata Ki Jai' and his name, many people bravely described it.
His welcome at Madison Square Garden in New York, like a rock star, was a victory celebration for a leader who had not been allowed to enter the United States for nearly a decade.
Next Sunday, the Indian leader will address an even bigger crowd of supporters in Houston, Texas, with US President Trump standing.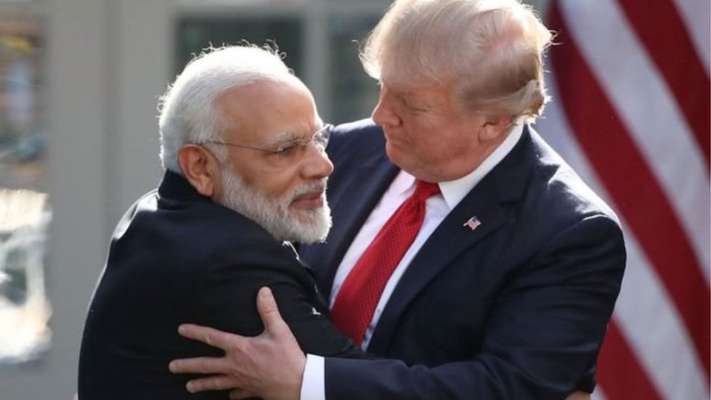 Many people think of this scenario as reducing the international criticism against Modi over Modi's controversial move to Kashmir.
Howdy Modi! Has been named the most appropriate because more than 50,000 people are expected to attend the event at NRG Stadium which will be the largest gathering for Modi outside India.
While this first joint program of this kind is being hailed as a victory for Modi's touch, it also highlights the importance of growing US-India relations.
Former Deputy Foreign Minister in the Obama administration, Nisha Biswal, says, "In a way, I think this was inevitable and is a demonstration of the strength of the Indian community in the United States."
He says the US president's decision to go to Texas is a good one.
Also read
Biswal, now serving as head of the United States India Business Council, added, "This relationship has now transcended people and politics."
The organizers of the event, Texas India Forum, have called on two sides of the event by inviting prominent Democrat leaders and several other members of Congress, elected US officials and governors, along with Majority Leader Stanny Hoyer in the US House of Representatives.
Houston's selection for this meet is also not surprising.
Getty Images PM Modi addresses Red Fort
India is Houston's fourth largest trading partner, and its growing demand for energy is likely to further boost US oil and gas sales. It is also an opportunity for India to reduce the trade deficit with the United States, which has been an important issue for President Trump.
There are strong indications that the two countries can also make a declaration to reduce trade disputes over the past year and a half.
"If that happens, there will be talk of victory and President Trump will take his stand," says Tanvi Madan, director of the India Project at the Brookings Institute in Washington.
For Jim Trump himself, this big event will provide an opportunity for President Trump to gain Indian-American support for the upcoming presidential election.
Speaking to reporters, President Trump said: "There is a great crowd gathering for them and I think the gathering will be even more because they have just announced, they asked me if I would go. I'll go. '
The number of Indian-American Indians in the United States is 32 million, which is one percent of the US population and is also among the richest communities in America.
According to the Asian American Legal Defense and Education Fund, most of them have been on the Democratic Party and they voted for Hillary Clinton in the 2016 election.
Modi has a lot of support here because of his nationalist ideology and his promise to restore India's greatness.
Tanvi Madan says: "I am sure Republicans will be hoping that they will get some voters this way."
Although many analysts see this as a win-win for both leaders, not everyone is excited about it.
The visit comes just weeks after the Modi government abolished partial sovereignty of Muslim-majority Kashmir and enforced communication sanctions in the region.
The move has heightened tensions with neighboring Pakistan, as it also puts its claim on the region. Along with this, India has been subjected to severe criticism by Muslim organizations and human rights activists.
Several members of the Congress, including Indian-American Congressman Pamela J. Paul, have expressed concern over India's move.
Human and social rights activists fear that US President Trump's shaking hands with Modi will be seen as an endorsement of his policies.
"This is a mistake," says Arjun Sethi, a human rights lawyer and member of the Indian community. Trump should not go there. '
He said, "We should say 'Audi Modi' which means 'Goodbye Modi' instead of 'Howdy Modi'.
Getty Images India is locked down in Kashmir for six weeks
Professor Audrey Trishky of Rutgers University tweeted: 'I don't know if it would be more shameful for Modi to stand with Trump or Trump's stand with Modi. My condolences to both countries. '
On the other hand, thousands of protesters, mostly Muslims, plan to gather at this location to protest against the Indian Prime Minister.
Modi will be honored by the Gates Foundation for his 'Clean India' campaign just days after the stage was lit on Houston. Under this campaign, millions of toilets are made in India.
Demonstrators are using this award to draw attention to Modi's actions in Kashmir.
He has filed a petition with one million signatures at the headquarters of the Gates Foundation's Seattle to cancel the award.
Mr Sethi, referring to the allegations of torture by Indian security forces in Kashmir, said, "If you make a toilet in one room and torture a person in another room, you are not entitled to human rights. . '
The Gates Foundation has not agreed to cancel the award, and its founder, Bill Gates, told the Washington Post in an interview: 'We believe the head of government (efforts) for sanitation should be acknowledged. ۔