Rally held in different cities of Egypt after industrialist Muhammad Ali accused Al-Sisi of corruption
Al-Qaeda - Thousands of well-coordinated demonstrators in different cities across the country protested Friday demanding the resignation of President Abdel-Sisi.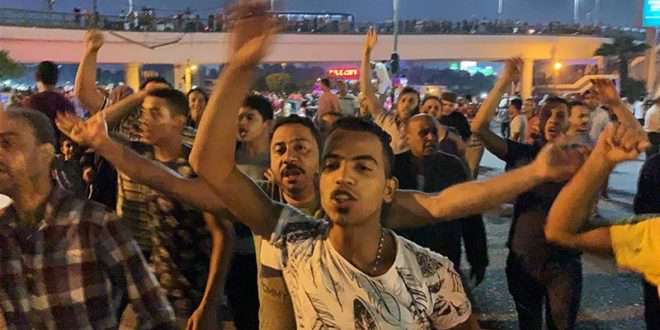 In the videos posted on social media, protesters can be seen chanting slogans against anti-Al-Sisi and al-Sisi. Protesters were seen protesting in the country's capital, Al-Qa'erah, which is the second largest city in Alexandria and Rivas.
Officials dressed in plain clothes prevented protesters from entering Cairo's writing square, which is the same square where the movement to oust Hussein Mubarak began in 2011.
Al-Jazeera broadcasts have been banned in Egypt, but several arrests are reported in the capital, and tear gas has been used on protesters.
Protests began when self-deposed Egyptian businessman and activist Mohammed Ali accused President Al-Sisi of corruption and called on people to take to the streets to oust the aforementioned leader.
Al-Sisi has dismissed the allegations as "a lie". In a video posted on Tuesday, Ali said "If Al-Sisi does not announce his resignation by Thursday, then the Egyptian people will go down to the streets to protest on Friday. Will "
Ali launches her first video post September 2. Thousands of people watched his latest video and made him a public figure in their homeland.
After the video broadcast on Friday, the protests became more powerful. Ali encouraged the people and called for a strong stand to continue demanding their rights.
Ali said, "Great is indeed good. Already enough. I want to come to Egypt. I am missing Egypt and my people. May Allaah encourage you."
Al-Jazeera observer Yahya Ghanem in the Middle East said he was convinced of the "fact" that Friday's protests had triggered a stir among Egyptian people.
He said that "what is happening in Egypt now has to start first so that the country can be dealt with by oppression".
After Al-Sisi came to power, measures of economic simplicity were introduced to restore the bad economy through Spring-Arab 2011.
But the poverty ratio has not decreased. One in three Egyptians lives in poverty, according to official data released in July.