Protests against President Abdel Fattah Al-Sisi have begun in various cities in Egypt. These 'sudden demonstrations' against the president, who has a strong hold on power in Egypt, are a surprise to everyone. There are reports of protests against President Abdel Fattah Al-Sisi, including the Egyptian capital, Cairo, and several other cities. The demonstrations began on Friday, September 20th. The protesters were demanding separation from Alissi's power.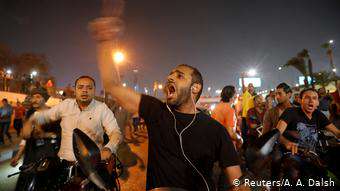 Hundreds of people gathered in Cairo's famous Al-Tahrir Square to hold the slogan until the security forces arrived and dispersed them. According to eyewitnesses, security personnel dispersing the protesters included policemen, specially trained to disperse the protesters. These demonstrations were seemingly not very large, but could be described as somewhat small. It is also not clear which opposition group or party it belongs to. It is unclear whether the protesters belonged to the banned Muslim Brotherhood in Egypt. It is also believed that there may be a businessman named Muhammad Ali behind the protests. In addition to being a building contractor, Muhammad Ali has also been acting. They have recently released several videos online against Al-Sisi in recent times, calling them a time-out for the abolition of Al-Sisi's government.
Ali accuses Al-Sisi and the army of grave corruption. In these videos, he repeatedly urged the Egyptian people to take to the streets and raise their voice against the Al-Sisi government. Mohammad Ali is currently based in Spain, a European country. The Egyptian president dismissed the contents of Muhammad Ali's videos as lying. In addition to calling themselves honest, they also declared sincere and loyal to the Egyptian people and the military. Al-Sisi has been in Egypt since 2013.
Then they overthrew the democratically elected First Egyptian President Mohammed Morsi's government, and since then the Assad regime has begun a crackdown against Morsi's supporters. Thousands of activists of the Muslim Brotherhood, including secular people, were imprisoned in addition to restricting free press in the Al-Sisi era that began after the collapse of the Morsi regime. The arrested men are still awaiting prosecution against them. It was only during Al-Sisi that the Muslim Brotherhood, which had a profound influence on the political process for decades in the Arab world, including Egypt, was re-declared as an anti-law. Egypt's only democratically elected President Mohammed Morsi also belonged to the same religious and political movement. AH,