Lucknow: Floods have taken a severe turn in several districts, including Allahabad (Prayag Raj) and Varanasi, due to the heavy rains and rise of rivers in Uttar Pradesh for the past three days. Roads are full of water and rain water has entered the houses.
In the Bhaira area of ​​Paliya Kalan in Lakhimpur, the rise of the water level of the river Ghaghara has caused water to flood the roads, causing a crocodile to enter the house. Seeing crocodiles in the kitchen made the whole family worse. The Forest Department but caught the fish and released it back into the river.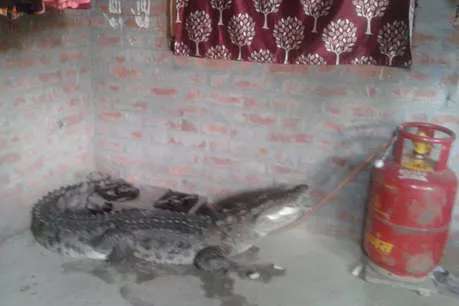 In the kitchen but seeing the fish the whole family's condition deteriorated
There was no flood in any district of the state during the entire monsoon, but on the way, Manson has devastated many districts including Eastern Uttar Pradesh. Floods in Allahabad and Varanasi are being transported to safer places.
Chief Minister Yogi Aditya Nath visited the flood-hit areas of Allahabad and Varanasi on Friday and reviewed the relief camps. He announced a package of Rs 5.50 crore to help flood affected people of 19 districts.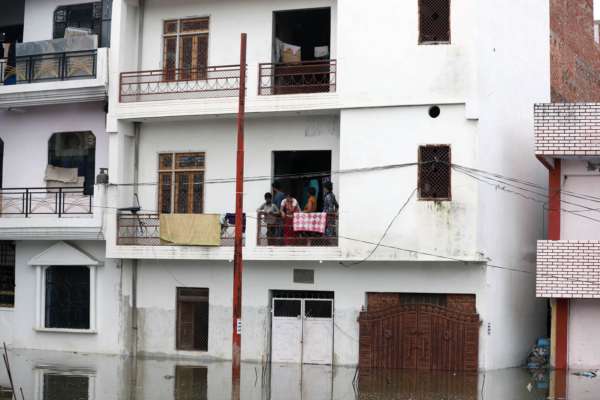 Deputy Chief Minister Kishu Prasad Moriah has appealed to the BJP workers to provide all possible help to flood victims. He said that the government was doing all possible help at its level, but party workers had to come to the aid of flood victims.
The water level of the Jamna in Fatehpur is increasing. The concourse is flowing two meters above the danger mark. Seven villages are still under water. There is a danger on the bridge connecting Basra to Bandha district. Since last night, 14 houses have been inundated due to the devastation.
Although the water level of the Gharaghar is declining in Bahraich, the floods have not yet been saved. Dozens of floodwaters have been submerged in the water since the Jamnah and the Cana River flooded in Banda. People affected by the flood have taken refuge in a garden.